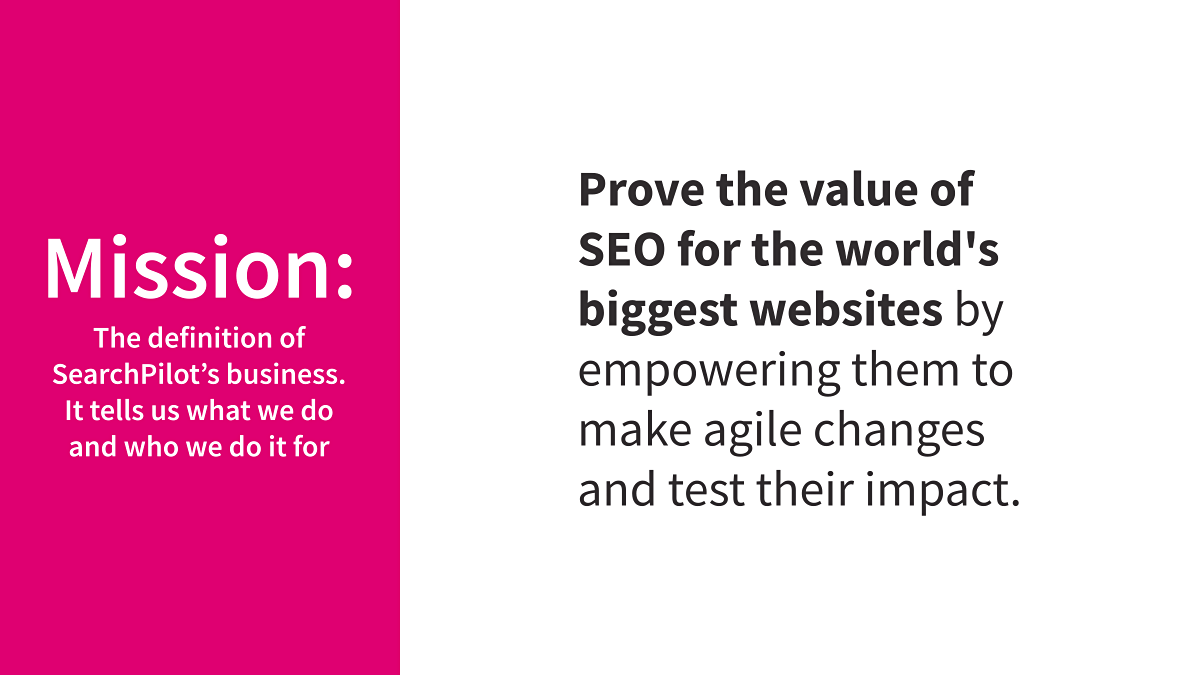 Join us!
The SearchPilot platform lets our customers discover exactly which SEO changes result in uplifts to their search traffic. We are looking for colleagues to join our small team in the UK and US.
SearchPilot is a profitable and growing startup headquartered in London with team members in the UK, NYC and Seattle.
Our Values
Treat each other as people, build trust, enjoy the journey.

Deliberately build diversity, stay curious, write everything down.

Help our customers succeed, value ownership and results.
Founded
Will and Duncan founded Distilled, which would eventually create SearchPilot
The idea
The idea that would become SearchPilot was conceived by the Distilled Research and Development team
Launch
DistilledODN (as it was then known) was officially launched and deployed on our first customers' sites and we began running SEO A/B tests
Big wins
We announced our first 7-figure annual uplift from an SEO test
New features
We announced request modification which enabled new kinds of tests including moving entire folders of content or entire site redesigns
More new features
We announced the capability for full-funnel testing which allows us to test for SEO and CRO outcomes at the same time
Professional services team
Experienced Distilled consultants in London and New York formed a professional services team to help customers run tests
Expand to Seattle
The professional services team grew into a new region with the addition of the Seattle team
Rebrand and independence
We rebranded to SearchPilot and spun out of Distilled as an independent company at the same time that Distilled was acquired by Brainlabs
About SearchPilot
SearchPilot is a profitable and growing startup with team members in the UK and US. We are on a mission to prove the value of SEO for the world's biggest websites and we'd like you to join us.

You're currently browsing our jobs site - visit our main website to learn more:

Already working at SearchPilot?
Let's recruit together and find your next colleague.